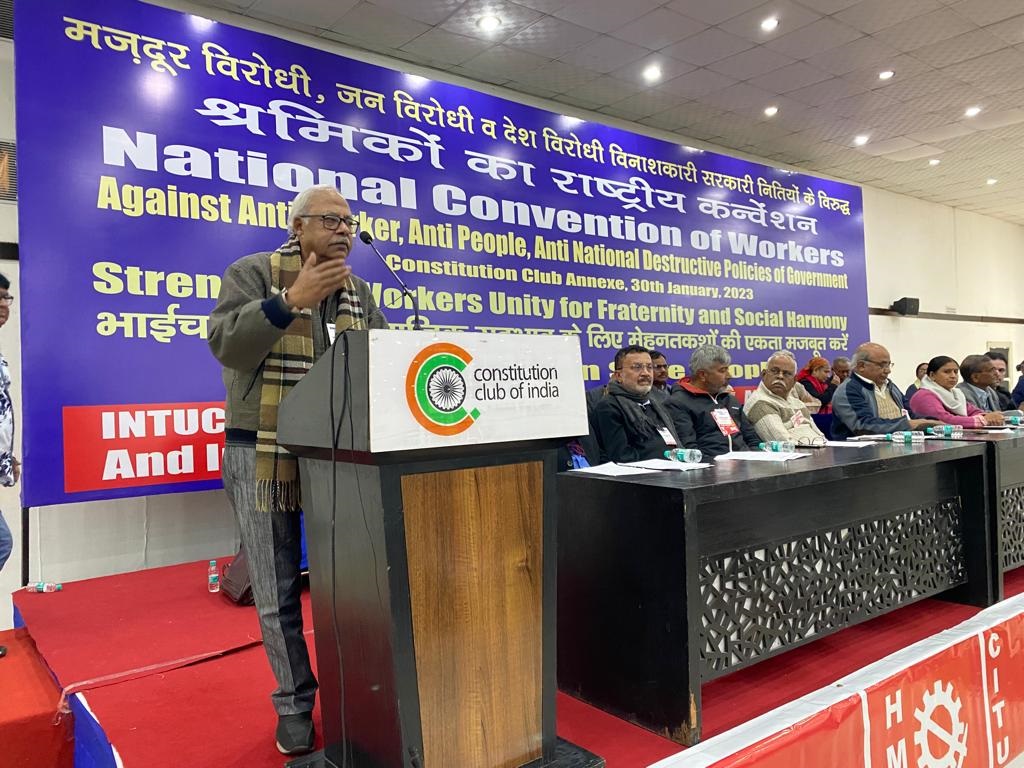 National Convention of Workers
R Karumalaiyan
Enable Ginger
Cannot connect to Ginger Check your internet connection
or reload the browserDisable in this text fieldRephraseRephrase current sentenceEdit in Ginger×
THE National Convention of Workers organised by the joint platform of central trade unions and independent industrial/sector level national federations/ associations representing crores of working people across all sectors, has decide to go for protracted year-long campaign and struggles to take united struggles to a higher level. For the working class of the country, the convention gave a clarion call that the entire year of 2023 would be a year of united campaigns and agitations to culminate into higher forms of struggle at all levels.
The National Convention of Workers was held on January 30, 2023, the day of martyrdom of Mahatma Gandhi. The convention was held at Constitution Club Annexe in New Delhi. It was presided over by a ten-member presidium representing ten central trade unions organisations. They included Amit Yadav from INTUC, Binoy Viswam from AITUC, Raja Shridhar from HMS, K Hemalata from CITU, R Parashar from AIUTUC, GR Shivshankar from TUCC, Lata Ben from SEWA, KK Bora from AICCTU, Rashid Khan from LPF, and Shatrujit Singh from UTUC. The leaders of almost all sectoral national federations were present in the convention. The participants were from almost all states across all sectors of economy informal/unorganised, formal/organised, and self employed/own account workers etc.
The joint declaration that was placed and adopted unanimously in the convention, was well received by the delegates to mount the pace of struggle with a resolve to go for nationwide strike action in the end of the year. While reiterating the 14-point charter of demands of joint platform of central trade unions and independent industrial /sectoral national federations and association, that envisions an alternative to the entire gamut of neoliberal policy regime, the national convention of workers has proposed and adopted the following programmes to scale up the working class resistance.
* From March-May 2023, state/district/and sectoral conventions will be organised.
* Jatha programmes: padayatras/jeep jathas/cycle jathas/motorbike jathas etc from June onwards. These programmes will be finalised in the above conventions.
* These mass campaigns through jatha programmes to culminate into state-level mahapadavs from August 9, 2023 – the 'Quit India day'. It could also be multiple days programme, as per the decision of the joint state conventions.
* Sectoral struggles to be supported and developed including strike actions.
* Worker-peasant unity that has strengthened during the farmers agitation at Delhi borders needs to be carried further. Some joint programmes would be held in this year.
There should be review of activities after Mahapadav programme to further heighten the agitation programmes to proceed towards countrywide strike action later in the year.
The leaders who addressed and supported the join declaration include Ashok Kumar Singh, vice president INTUC, Amarjeet Kaur, general secretary, AITUC, Harbhajan Singh, general secretary, HMS, Tapan Sen, general secretary, CITU, Rajinder Singh, working committee member of AIUTUC, K Indu Prakash Menon, president of TUCC, Sonia George, national secretary, SEWA, Rajiv Dimri, general secretary of AICCTU, M Shanmugam, member of parliament and general secretary, LPF, and Ashok Ghosh, general secretary UTUC.
All central trade union leaders were emphatic in their resolve to fight back labour codes, policies of privatisation of PSUs, sale of national resources and assets, to the Indian and foreign corporate. They opposed subjugation of Indian economy to international finance capital in detriment to Indian self reliance, sovereignty and independence. They exposed the efforts of Indian government to defend crony capitalists and demanded a probe into the allegations and exposures of Adani companies that was brought out by Hindenburg research report. Quoting the latest Oxfam report, they explained about the growing disparity and inequity, making the life miserable for common masses.
The government which failed on all fronts to deliver on the promises, is now allowing the forces of communal hatred and polarisation under various pretexts to divert the united agitations of workers, farmers and other sections of the society from their pressing issues of livelihood and survival. It is undermining the secular democratic ethos of our society by using all democratic institutions to stifle the voice of opposition to the government policies.
The convention has resolved that the workers would fight to safeguard the national unity and for a harmonious living and with all its might would move to defeat these policies of the present right-wing ruling dispensation in the larger national interests.
Enable GingerCannot connect to Ginger Check your internet connection
or reload the browserDisable in this text fieldRephraseRephrase current sentenceEdit in Ginger×
Enable GingerCannot connect to Ginger Check your internet connection
or reload the browserDisable in this text fieldRephraseRephrase current sentenceEdit in Ginger×